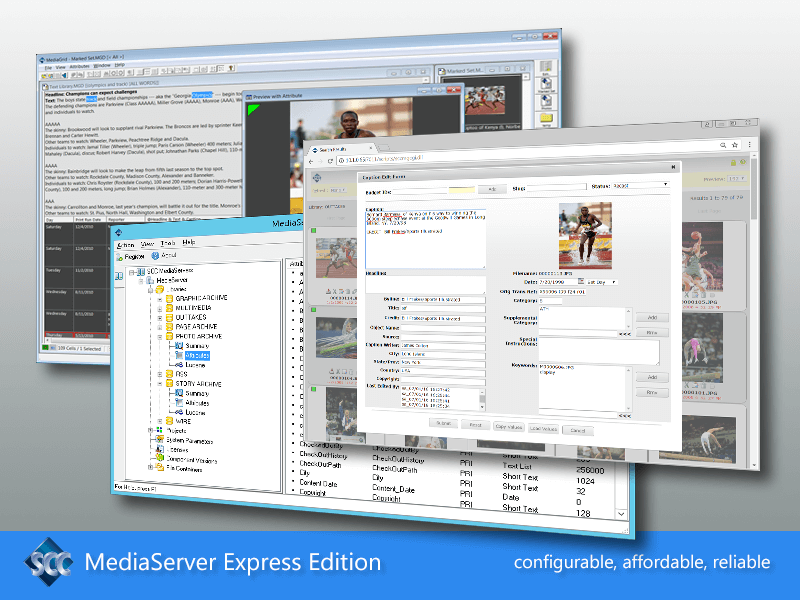 SCC MediaServer Express Edition provides a low-cost but high-end introduction to multimedia digital asset management.
Like its larger sibling, SCC MediaServer Express Edition includes SCC MediaFactory and supports the insertion of digital photos, graphics, documents, text files as well as audio and video clips.
The system provides concurrent access for up to 5 power users, and 10 lightweight users either from the SCC MediaGrid client application or via the SCC Web Client which supports all modern web browsers (Safari, Firefox, Chrome, Edge, Internet Explorer).
The SCC MediaServer Express Edition system is tied to Microsoft's SQL Server Express Edition which is a freely downloadable version of Microsoft's SQL Server software, setting the maximum storage of the SCC MediaServer Express system to approximately 400,000 database records (depending on the amount of metadata stored with each record).
If at any time in the future a site wishes to expand their operations to a larger database capacity, they have the option of of licensing additional MediaServer Express Edition systems to run parallel to the first, or upgrading to an SCC MediaServer Enterprise Edition system, the latter having effectively no database size restriction..
SCC MediaServer Express Edition Includes
MediaServer Express 2 processor/core license
5 concurrent 'power' user licenses
10 concurrent 'lightweight' user licenses
SCC Lucene Search Engine
SCC MediaFactory
SCC MediaGrid
Express Edition Web Browser Access Module
Express Edition RSS Reader Module
Cloud Storage Services Module
SCC MediaServer Express Edition Options
Express Edition Web Client Publishing & ServerOps Module
REST API Developer Module